Welcome to KARASAWA HÜTTE
KARASAWA HÜTTE is in Karasawa cirques, under Mt.OKUHOTAKA-DAKE(3,190m) in Northern Alps. Located at 2309m above sea level, the terrace has grand view of the HOTAKA MOUNTAINS.
We are open from 27th April to 3rd November.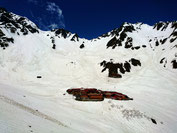 April to Jun
KARASAWA cirque is covered with snow.

Preparation for snow mountain climbing is require when you climb to the top of the mountains.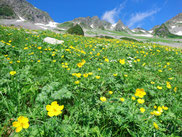 July to August
The snow of trail melts,various alpine plants being to bloom.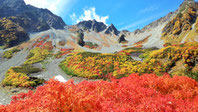 September to October
Throughout the year, It is most crowded season. You can enjoy the beautiful colored leaves.
Price
stay with 2meals included ¥10,000
stay only ¥7,000
campsite ¥1,000
*nightly price per person (Including taxes)
*There is no private room and shower room.

*We only accept cash.
Notice
・Try to arrive at 3pm. Because in the mountains, it grows dark   earlier.
・Please be carrying rain gear.
・CASH PAYMENT ONLY IN MOUNTAINS
--We can take CASH only, since there is no sustainable internet network in mountains. Please prepare enough cash in cities before you come to the national park. Thank you for your understanding in advance.--
                                                        Mountain Lodge Association of Japan Northern Alps